Toolkit Company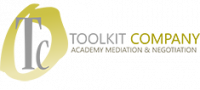 Description
About training and dispute resolution professionals

Toolkit Company offers consulting, training of international negotiators, commercial mediators and mediation advocacy, training of trainers, trainer certification and licensing programs on negotiation and mediation.

Knowledge center
As an ADR knowledge resource center we want to share and spread know-how and circulate information among ADR professionals and users. Through this website you can find a lot of free materials. Use it broadly, but acknowledge its source and please do observe copyright notices. In case of doubt drop us an e-mail: info@toolkitcompany.com

Training
In all Toolkit Company trainings the latest insights from neuroscience, second generation negotiation teaching and the newest ADR developments are included. Besides offering specialized in-house training Toolkit Company develops training materials for other professional training organizations.

Access to justice and technical assistance consulting.
Toolkit Company has a broad experience in access to justice projects and offering technical assistance in implementing ADR projects.

Toolkit Company
Manon Schonewille and Huub Liefhebber are the founding partners. They collaborate with distinguished professionals from around the world to carry out the Toolkit Company projects and deliver trainings.