De Middler, Mediation & Advies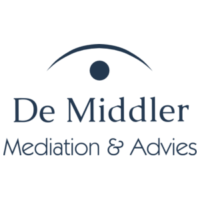 De Middler, Mediation & Advies
Postal Address
Rypsterdyk 20
9036JH
Menaldum
Netherlands
Visiting Address
20, Rypsterdyk, Menaam, Waadhoeke, Friesland, Netherlands, 9036JH, Netherlands
T:
+31(0)6 3832 9455
M: +31(0)6 3832 9455
www.demiddler.nl
Description
Heb je een conflict of probleem met een ander en kom je er samen niet uit?
Dan kan het zinvol zijn een onafhankelijke tussenpersoon in te schakelen. Het kan jaren strijd en getob voorkomen.
Vaak helpt een aantal gesprekken al om de communicatie weer op gang te krijgen en samen tot een oplossing te komen.

Je kunt bij De Middler terecht voor bemiddeling bij echtscheiding en conflicten in de relationele of zakelijke sfeer en advies of begeleiding bij een juridisch probleem. De Middler begeleidt naar een oplossing waar beide partijen achter kunnen staan.
Tjitske Bergsma is het gezicht achter De Middler en helpt je graag verder!