Maya Mediation - Maya Toneva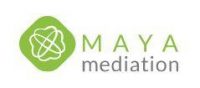 Description
Ik ben Maya Toneva en met Maya Mediation help ik u om een conflict om te buigen naar een win-winsituatie voor beide partijen.

Wist u dat één op de vier ziekmeldingen het gevolg zijn van arbeidsconflicten of arbeidsgeschillen? Uit onderzoek blijkt dat maar liefst 15% van de bruto loonkosten op gaat aan arbeidsconflicten. Heeft u enig idee wat dit uw bedrijf jaarlijks kost?

Waar mensen werken, ontstaan conflicten. Daar kunt u helaas weinig aan doen. Maar wat u wel kunt doen is op tijd ingrijpen en mediation inschakelen om de partijen met elkaar om tafel te krijgen. Mediation is in bijna 90% van de gevallen succesvol en voorkomt zo veel kosten door effectiviteitverlies, ziekteverzuim, ontslagvergoeding etc.

Door te kiezen voor mediation bespaart u niet alleen geld, maar houdt u ook zelf de regie. Natuurlijk kunt u een geschil voor de rechter laten komen, maar dan beslist die en heeft u zelf weinig tot geen invloed op de uitkomst.

De basis van mediation is zelfbeschikking, ú bepaalt of de oplossing voor u acceptabel is. U blijft dus altijd de baas over de uitkomst. Verder is meewerken aan mediation volledig op vrijwilligheid gestoeld en zijn alle gesprekken vertrouwelijk.