Marcel Mediation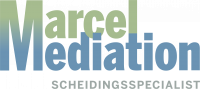 Description
Welkom bij Marcel Mediation
Heb je besloten om te gaan scheiden, maar weet je niet hoe dit nu goed regelen? Een scheiding geeft veel onzekerheid, voor jezelf, ex-partner en zeker voor je kinderen. Voor nu, tijdens de scheiding, maar ook voor de jaren erna. Vele zaken die jullie samen deelden, moet je nu zelf gaan regelen. Met alle spanning en emotie van de scheiding erbij, is het lastig je hoofd helder te houden en goede keuzes te maken.

Als scheidingsspecialist vind ik het belangrijk om scheidende ouders bewust te laten worden dat ze als ouder verantwoordelijk zijn en blijven voor hun kinderen, ook al eindigt hun partnerschap. Mijn streven is om de scheidende ouders datgene te bieden dat wat ik zo gemist heb in mijn mediation traject, zodat zij na de scheiding in harmonie verder met elkaar om kunnen gaan, in het belang van hun kinderen.

Ga je scheiden en wil je?:
• Dat de kinderen ervaren dat je gewoon hun mama of papa blijft en dat ze nooit hoeven te kiezen tussen hun ouders.
• Dat je jouw deel van de opvoeding van je kinderen voor je rekening kunt blijven nemen en dat je jouw ouderrol kunt blijven vervullen.
• Duidelijkheid over wat je iedere maand onder aan de streep overhoudt en welk bedrag er beschikbaar is voor de zorg voor de kinderen.
• Helderheid over wat er op het gebied van wonen mogelijk is en of je in het ouderlijk huis kunt blijven wonen

Neem dan contact met mij op voor een kosteloos informatiegesprek.