Kaaij Advocatuur Mediation en Coaching - Michaëla Kaaij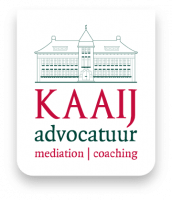 Kaaij Advocatuur Mediation en Coaching - Michaëla Kaaij
Postal Address
Postbus 31251
6503 CG
Nijmegen
Netherlands
Visiting Address
198, Sint Annastraat, Heijendaal, Nijmegen-Midden, Nijmegen, Gelderland, Netherlands, 6525GX, Netherlands
T:
+31(0)24 3245937
M: +31(0)6 46371342
https://kaaijadvocaten.nl/
Description
Over mij Michaëla Kaaij

Als advocaat-mediator is Michaëla Kaaij gespecialiseerd in familierecht, psychiatrisch patiëntenrecht en tuchtrecht. Ook als mediator in klokkenluiderszaken, in straf-en herstelzaken en voor teams in conflicten.

Heeft u vragen over mijn diensten, een bepaald rechtsgebied of over mij? Neem dan gerust contact op via email of via het contactformulier. Ik neem dan zo snel mogelijk contact op met u.