Goed uit elkaar Amsterdam | Rebecca Luyf | Mediator & Coach in familiezaken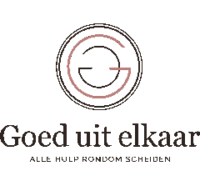 Goed uit elkaar Amsterdam | Rebecca Luyf | Mediator & Coach in familiezaken
Postal Address
Ijsbaanpad 9
NL 1076 CV
Amsterdam
Netherlands
Visiting Address
9, IJsbaanpad, Zuidas, Amsterdam, North Holland, Netherlands, 1076CV, The Netherlands
T:
+31(0)20 308 0658
M: +31(0)6 55 711 859
http://www.goeduitelkaar.com
Description
OVER GOED ELKAAR

Mediation bij echtscheiding in Amsterdam , Amstelveen , Haarlem , Hilversum e.o.
Een scheiding kan uiteenlopende vragen met zich meebrengen. Hoe zit het bijvoorbeeld met partner- of kinderalimentatie? Wat komt er kijken bij het opstellen van een ouderschapsplan? Wie blijft er wonen in het huis dat u voorheen met uw (ex-)partner deelde, en hoe worden gemeenschappelijke bezittingen nu precies verdeeld?

Onze unieke hulpverlening brengt gespecialiseerde antwoorden op alle vragen rond uit elkaar gaan in één loket samen. U hoeft hierdoor niet meer zelf op zoek te gaan naar juridische, financiële, emotionele of praktische expertise – wij begrijpen wat er bij uit elkaar gaan komt kijken en zorgen ervoor dat u waar nodig goed en effectief geholpen wordt.

Mediators combinatie Midden Nederland zijn goed te bereiken vanuit ondermeer Amstelveen, Aalsmeer, Uithoorn, Zaandam, Purmerend, Landsmeer, Badhoevedorp, Hoofddorp, Diemen, Weesp, Muiden, Abcoude, Hilversum Laren, Blaricum Amersfoort e.o.

Heeft u specifieke vragen, of wilt u meer weten over wat u bij het regelen van uw scheiding kunt verwachten?

Zou u graag een afspraak willen maken voor een kennismaking/ intake gesprek? Neem contact op met Goed Uit Elkaar. Wij staan klaar om vraagstukken rond het regelen van uw (echt)scheiding in kaart te brengen.