Op maat: coaching / mediation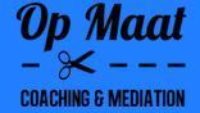 Description
De dienstverlening van Op Maat biedt:
laagdrempelige ondersteuningresultaatgerichte aanpakkorte trajectengeen wachtlijst

Mijn tarief ligt tussen € 75,-- en € 125,-- per uur. Die bandbreedte hanteer ik omdat ik vind dat iedereen recht heeft op een kans om zijn of haar problemen op te lossen. Wanneer de kosten daarbij in de weg staan, kijken we samen hoe we er een oplossing voor kunnen vinden.

Goed om te weten
Deelname aan mediation is vrijwillig, niemand kan u dwingen.Alles wat we bespreken is vertrouwelijk. Een mediator heeft geheimhoudingsplicht.Gesprekken kunnen bij mij plaatsvinden of op een neutrale locatie.
"Op Maat heb ik gekozen vanwege de dubbele betekenis. Maatwerk leveren: mijn dienstverlening precies afstemmen op wat er nodig is. En daarnaast figuurlijk: mijn begeleiding als eerste stap, als opmaat, naar een prachtig resultaat."
De naam van mijn praktijk zie je terug in de manier waarop ik werk. Op Maat betekent dat we kijken wat er nodig is in uw situatie. Op basis daarvan maken we een plan. Maatwerk dus, in plaats van een standaard aanpak.