Heijsman Scheepsexpertise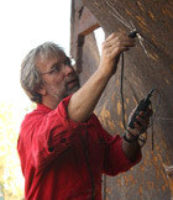 Heijsman Scheepsexpertise
Postal Address
Kloosterstraat 2 a
5301 BM
Zaltbommel
Netherlands
Visiting Address
2a, Kloosterstraat, Binnenstad, Zaltbommel, Gelderland, Netherlands, 5301BM, Netherlands
T:
+31(0)73 640 0610
F: +31(0)73 649 8970
M: +31(0)6 2240 7402
http://www.heijsmanscheepsexpertise.nl
Description
Ydo Heijsman | international certified EMCI yachtsurveyor, appraiser, arbitrator & mediator.

Er zijn van die mensen die zoveel affiniteit met watersport hebben, dat je niet zeker weet of er nu bloed of water door hun aderen stroomt. Ydo Heijsman is zo'n mens.

Ydo begon zijn leven als zoon op een binnenvaartschip, waarop hij ook meevoer. Na een aantal jaren zelf gevaren te hebben koos hij voor een leven aan wal, zonder boten en water. Dit was aan Ydo absoluut niet besteed en al snel was hij werkzaam in de watersport. Binnen de watersportbranche heeft hij erg veel ervaring opgedaan, met name op het praktische vlak.

Vervolgens heeft Ydo nog jaren in het nautische wezen van de verzekeringswereld gewerkt. Hiermee werd zijn ervaring en kennis zo compleet dat een nieuwe uitdaging werd aangegrepen; in mei 2002 is Heijsman Scheepsexpertise opgericht.

Werkwijze

Ydo is door zijn praktijkervaring geen expert die met een stropdas op uw boot zal verschijnen. Het is juist iemand die niet bang is van vieze handen, die zich overal tussen laat zakken om het te nader te onderzoeken. Hij zal dan ook regelmatig in een overall te vinden zijn.

Ydo is iemand die met heel veel plezier zijn beroep uitoefent, waarbij hij de contacten met de klanten erg leuk vindt. U zult als klant dan ook iemand aan boord krijgen waar de watersportliefde vanaf straalt!